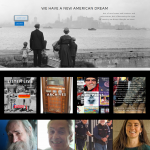 A fifth-Thursday show! And Halloween!
I opened with Joe Hill, a song famously sung by Joan Baez at Woodstock but in earlier times a staple for the great Paul Robeson. I then introduced Sheena Powell Szuri, who started with Sherwood Ross' song I was Nixon's Plumber a hilarious satire on Watergate that led into comparisons with today's Trump administration. Sheena mentioned Elijah Cummings and how he kept fighting for justice up till his recent death. She mentioned her plans for a Poetry Live event at the Olympia Theater, probably in February 2020, and I expressed my desire to be part of that. Sheena then read her own poem, Religion, which I described as "wonderful and horrifying."
The second segment, staring with Philip Farruggio and It's the Empire, Stupid. His column may be read at https://itstheempirestupid.com/never-had-a-chance/; it features the story of Richie D., a kid from Phil's neighborhood whose family needed help — counselling, therapy, something — they never received. We explored this topic for some time, in particular the (lack of) availability of therapists for those in need. Philip volunteered some of his personal history, including his visits to a Freudian psychoanalyst that helped him learn a great deal about himself. We mentioned the current trend toward more direct methods — drugs to address mental disorders, behavioral modification, etc. — and how the extremely valuable tool of analysis is rarely available at all. Phil also discussed his experience teaching school kids, and how he got his class to switch from candy and soda to healthier snacks. He also mentioned how 100 girls in the school where he taught had babies! He attributed that to how the young mothers became celebrities when they came back to class! The availability of counseling, or the lack thereof, is key to many issues in our schools and lives, and Philip pointed out that by spending over 50% of our tax money on the military for "defense" we bankrupt ourselves in areas such as education and medical care.
The top-of-the-hour station break was missing so I did a quick ad for Revolution Radio at freedomslips.com (please do visit freedomslips.com and use that donation button, it's listener supported radio and they need and deserve your support). I then proceeded to introduce Michael Annis for the third segment. I wished him a Happy Halloween and a Happy Birthday! He presented a great deal of information and samples from Frank Winters, Frank made heroes of unknown figures and decrying the struggle of the working class to survive in the face of industrial greed. Frank was full of rage, and often was a threatening figure looking for trouble. He hung out at biker clubs but was a poet not a biker. It was a powerful presentation about a powerful person, who was not necessarily likable. "How do you overthrow of your existence?"
The final segment featured Frank Cordaro who read his upcoming article in via pacis, the newsletter of the Des Moines Catholic Worker. This piece recounts his experience in Brunswick, Georgia at the trial of the Kings Bay Plowshares 7, where the masterful defense called out the existence of the Trident submarine and its missiles as the crime, and the destruction of property in protest as the justified and righteous response. The judge instructed the jurors to consider only the action ("vandalism") and its cost, essentially ignoring the impassioned arguments on behalf of the defendants. I read a quote from Daniel Berrigan, who was an amazingly influential activist for over 50 years. I closed with Phil Ochs' song I Ain't Marching Anymore.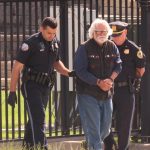 Frank is a weekly guest on our show. Frank Cordaro is a member of the Des Moines Catholic Worker. He is a former Catholic Priest. He has himself spent years and years in federal prison for crossing the line at Offutt, and more recently has been jailed for actions against the drone facility in Des […]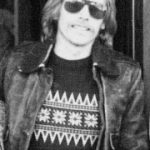 Michael is a monthly columnist who appears in the fourth week of each month. He is currently taking a leave of absence but we expect to have him back soon. MICHAEL ANNIS—poet, writer, playwright, radio commentator, founder & senior editor of Howling Dog Press—has published many of the world's modern giants of fiction, drama, poetry […]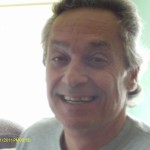 Phil is a weekly guest on our show. Philip A Farruggio is son and grandson of Brooklyn, NYC longshoremen. He is a free lance columnist (found on WorldNewsTrust.com, TheSleuthJournal.com, Information Clearing house, Op Ed News, Dandelion Salad, Activist Post, Dissident Voice and many other sites worldwide). Philip works as an environmental products sales rep and […]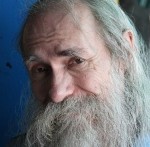 Co-founder and co-host of the show, Chuck lives in Fort Lauderdale, Florida with his wife Lorraine and assorted exotic pets. He was fortunate to attend Friends Central School in the late '60s to hone the already strong core beliefs instilled in him by his parents Wayne Lawrence and Marjorie Mock Gregory. His education continued at […]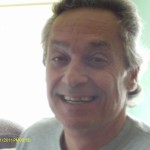 Phil is a weekly guest on our show. Philip A Farruggio is son and grandson of Brooklyn, NYC longshoremen. He is a free lance columnist (found on WorldNewsTrust.com, TheSleuthJournal.com, Information Clearing house, Op Ed News, Dandelion Salad, Activist Post, Dissident Voice and many other sites worldwide). Philip works as an environmental products sales rep and […]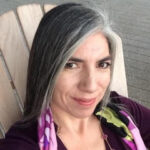 Miami native Sheena Powell Szuri is a poet, activist, yoga teacher and scientist. As part of a thriving South Florida poetry community, Sheena is proudly affiliated with the Miami Poets, the Florida State Poets Association, and Famous Last Fridays poetry group at Books & Books. She serves on the Board of Directors of the South […]