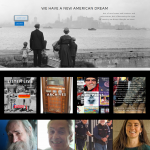 I opened with my rendition of Rainy Day Women #12 & 35, then played an interview I'd recorded earlier with novelist Mike Bond. We compared France and the USA and also addressed the mass migrations due to overpopulation.
Second up, Philip Farruggio read his recent column, "Recipe for Disaster." He and I discussed healthcare options, insurance companies, and defense spending.
Third segment featured Michael Annis reading his essay written for Cost of Freedom, entitiled "American Addle."
Fourth segment featured an interview with Frank Cordaro, from Brunswick, Georgia. He had attended the trial for the Kings Bay Plowshares, and despite sound problems the talk was well worth a listen. I wrapped up with the column sent in by Julius Awafong, our correspondent in Yaounde, Cameroon.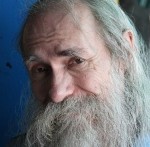 Co-founder and co-host of the show, Chuck lives in Fort Lauderdale, Florida with his wife Lorraine and assorted exotic pets. He was fortunate to attend Friends Central School in the late '60s to hone the already strong core beliefs instilled in him by his parents Wayne Lawrence and Marjorie Mock Gregory. His education continued at […]