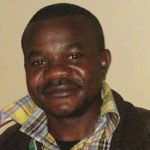 Julius is a monthly columnist, appearing the fourth week of each month.
Julius is a Cameroonian living in Cameroon. He is a researcher in Political Science specialized in Political Conflicts and African Politics. Julius has a world of experience gathered from his home-based business where he has been typing and editing students' research works. He is bilingual in English and French languages. At the international level, Julius has worked for seven years with the Canadian Vote Sizing Institute based in Vancouver. Since 2010, Julius has been volunteering as African Correspondent for the New American Dream Radio Show.
Julius is also an activist promoting social justice in Cameroon. He has written articles, participated in radio and TV debates on issues pertaining to social justice.