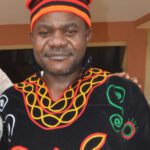 Julius Awafong is a volunteering monthly columnist for the New American Dream Radio Show since 2011, and appears the fourth week of each month.
Julius lives in Cameroon and is fluent in English and French (and does some translation). This analyst of divided societies received his Master's Degree in Political Science from the University of Yaounde II in Cameroon, and is currently a PhD Fellow on issues related to political conflicts in Sub-Saharan Africa.
For almost two decades, Julius has gathered a world of knowledge as he typed, edited, and proofread many scientific publications and research works for African researchers and writers. He has also worked for seven years with the Canadian Vote Sizing Institute based in Vancouver, Canada. He is also an activist promoting social justice; he has written articles and participated in radio and TV debates on issues pertaining to social justice and political development.