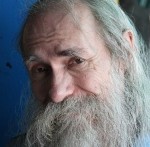 Co-founder and co-host of the show, Chuck lives in Fort Lauderdale, Florida with his wife Lorraine and assorted exotic pets.
He was fortunate to attend Friends Central School in the late '60s to hone the already strong core beliefs instilled in him by his parents Wayne Lawrence and Marjorie Mock Gregory. His education continued at Wesleyan University where he earned a Bachelor of Arts degree with majors in Math and Theater, then some years later at Nova University (now Nova Southeastern) where he gained his Masters in Computer Science.
Chuck has done the engineering for the show since June 2012 when we moved to Blog Talk Radio from our first host, Black Op Radio. His first activism was in the late '60s when groups from Friends Central went to Washington for several Marches, both for Civil Rights and against the Vietnam War.
Chuck publishes books under the imprint CWG Press, and develops and manages websites under the name CWG Services. He sings in the choir at St. Marks Episcopal Church in Fort Lauderdale.