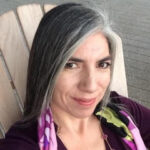 Miami native Sheena Powell Szuri is a poet, activist, yoga teacher and scientist.
As part of a thriving South Florida poetry community, Sheena is proudly affiliated with the Miami Poets, the Florida State Poets Association, and Famous Last Fridays poetry group at Books & Books. She serves on the Board of Directors of the South Florida Writer's Association.
Sheena has presented original works of poetry in live reads at the O, Miami Poetry Festival, the USpeak Open Verse and Story Performance Series, and Odd Blue Roses. She has served as poetry and prose judge for the Junior Orange Bowl Creative Writing contest and the Miami VA Creative Arts Festival. Sheena has produced several successful community poetry events, most notably "Beat Poetry at Le Chat Noir" and "A Tribute to Sherwood Ross."
She was a 2016 recipient of a grant with the Writer's Room at the Betsy Hotel, South Beach, to support completion of her upcoming first collection of poems "Polyhymnia", a passion of truth, beauty and love drawn from nature, personal relationships and art with music as muse.
Sheena is also a political activist, Yoga teacher, and holds a day job as a Scientist. As an amateur poet she is still looking for the answers and still dreaming…