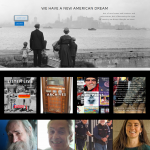 I opened with another parody – new Covid-19 lyrics to Neil Diamond's Sweet Caroline. I then introduced Mike Bond, and after we discussed my wife being in the hospital we proceeded to talk about the Covid situation, and how our perspective a month earlier had been quite different from what actually happened. He was concerned about a complete collapse of the economy, and also addressed the Swedish model of handling the crisis. He called for us to all come together to solve this problem, avoiding partisan politics.
The second segment as always featured Philip Farruggio with It's the Empire, Stupid. He had me play his earlier interview with Ellen Brown as his column for this week. The focus was on the Stimulus Bill, Universal Basic Income, and related matters.
The third segment had Michael Annis who focused on Albert Goldbarth, reading the poem The Reader Wondering in addition to presenting an intriguing biography. Michael finished his segment with a poem by Ken Greenley, Me and my Mr. Hyde.
The final segment this week included my prerecorded conversation with Frank Cordaro of the Des Moines Catholic Worker, followed by our African correspondent Julius Awafong reporting from Yaounde, Cameroon. I closed with Ripple.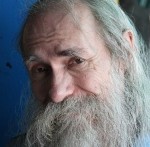 Co-founder and co-host of the show, Chuck lives in Fort Lauderdale, Florida with his wife Lorraine and assorted exotic pets. He was fortunate to attend Friends Central School in the late '60s to hone the already strong core beliefs instilled in him by his parents Wayne Lawrence and Marjorie Mock Gregory. His education continued at […]