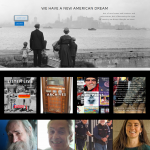 I opened with You've Got a Friend and then played the interview I'd recorded earlier with Mike Bond, who addressed the issue of truth in journalism.
The second segment was as usual It's the Empire, Stupid with Philip Farruggio. That Damn Camouflage Again was his column to start things off, addressing the show of military power that pervades life today.
The third segment featured Michael Annis who joined us from Denver and talked at some length about the Black Lives Matter movement. He then read a letter from Benjamin Banneker to Thomas Jefferson and the reply from Jefferson. It was very powerful.
The final segment had my earlier recorded conversation with Frank Cordaro at the Des Moines Catholic Worker who talked about attending a vigil with Black Lives Matter. The show finished with Julius Awafong's column that he'd sent in from Yaounde, Cameroon.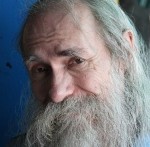 Co-founder and co-host of the show, Chuck lives in Fort Lauderdale, Florida with his wife Lorraine and assorted exotic pets. He was fortunate to attend Friends Central School in the late '60s to hone the already strong core beliefs instilled in him by his parents Wayne Lawrence and Marjorie Mock Gregory. His education continued at […]