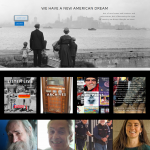 I opened with Norwegian Wood, then attempted to get Anthony Rayson, prison activist from Chicago… but instead I played my earlier interview with Frank Cordaro of the Des Moines Catholic Worker. He talked about the lessons to be learned from the Covid-19 isolation situation. We had a great conversation.
The second segment as usual was Philip Farruggio's It's the Empire Stupid, which he started with his column We Have Met the Enemy, and He Be Us. We discussed the column, issues with people not wearing masks, etc.
For the third segment original Black Panther Larry Pinkney joined me with an inspiring message urging us to stand tall and UNIFY. Be conscious with a conscience and exercise common sense. Then I introduced prison activist Anthony Rayson, who usually joins me in the first segment on the third Thursday. Anthony read from one of his zines a tremendous piece titled  Stand Up in the Eyes of Society I cry, "Who Am I?" by Chakuma Van(?).
The final segment featured MK Davis reporting from Boise, Idaho. He told us about the "most remote location in North America," Jarbidge, Nevada, which he got to visit while out west for other reasons. It was fascinating.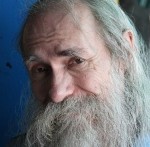 Co-founder and co-host of the show, Chuck lives in Fort Lauderdale, Florida with his wife Lorraine and assorted exotic pets. He was fortunate to attend Friends Central School in the late '60s to hone the already strong core beliefs instilled in him by his parents Wayne Lawrence and Marjorie Mock Gregory. His education continued at […]