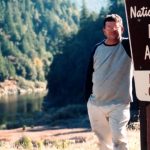 M.K. is a monthly columnist, appearing on the third week of each month.
M.K. Davis has spent years studying Bigfoot/Sasquatch. He is an expert on the Patterson-Gimlin film. He hosts a Bigfoot radio show with Don Monroe, Bigfoot Central.
M.K.Davis has been researching the Patterson Sasquatch film for the last 18 years. He has traveled extensively and has amassed one of the largest collection of images from the film. M.K. has trekked the Bluff Creek drainage of Northern California on many occasions and his observations have led to several important discoveries on the film itself. While the Patterson film is only a very short piece of film, it continues to yield vital data that may one day lead to a more complete understanding what it is that is on the film and what it means to all of us
Many of his research videos can be found at greenwave2010fb.com. ???
Also at The Davis Report, thedavisreport.wordpress.com.