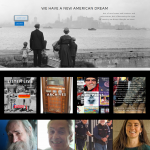 I opened with Blowin' in the Wind, then introduced Mike Bond. We discussed the impeachment proceedings among other topics.
The second segment had Philip Farruggio with "It's the Empire, Stupid." He read his column from 2011 entitled Sheep Always Seem to Lose their Wool. We discussed the problem of change versus status quo, and the control of the media that keeps people that way. It was fun.
The third segment featured Michael Annis, who introduced us to Seth, a Denver poet, who read an excerpt from his poetic memoir The Black Odyssey. One More Strange Island was a fascinating compilation of three of his poems which he'd included in a single chapter, arranged to be read as a single poem. His memoir follows the thread of Homer's Odysseus. The Black Odyssey may be purchased from Amazon. Michael then read a short biography and a poem by Lenora Candell, First They Slaughtered the Angels.
The final segment this week started with Frank Cordaro of the Des Moines Catholic Worker who discussed the question of whether to speak truth to those who will not listen, versus when to search for compromise. It was a fascinating philosophical discussion. I then played Julius Awafong's column from Yaounde, Cameroon.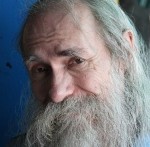 Co-founder and co-host of the show, Chuck lives in Fort Lauderdale, Florida with his wife Lorraine and assorted exotic pets. He was fortunate to attend Friends Central School in the late '60s to hone the already strong core beliefs instilled in him by his parents Wayne Lawrence and Marjorie Mock Gregory. His education continued at […]