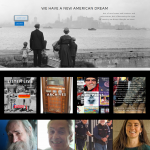 I opened with We Shall Overcome in honor of Dr. Martin Luther King. I then introduced Anthony Rayson, who told us about an upcoming presentation at Oak Park Elementary. He then read the part he'd prepared for the adults: Agitation Education: Activism Using Zines.
The second segment as usual featured Phil Farruggio with It's the Empire Stupid. This week's column was entitled The Big Squeeze on Sanders.
The third segment started with Larry Pinkney, with a New Year message encouraging everyone to move forward with Honesty, Civility, and  Pragmatism. It was an inspiration, and a lively conversation ensued. I then played my interview with Frank Cordaro earlier that day. He talked about the Poor People's Campaign.
The final segment featured MK Davis, who talked about … Siberia! The conversation moved on into the cross-fertilization of various versions of man. Very interesting.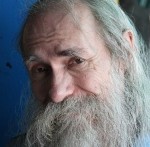 Co-founder and co-host of the show, Chuck lives in Fort Lauderdale, Florida with his wife Lorraine and assorted exotic pets. He was fortunate to attend Friends Central School in the late '60s to hone the already strong core beliefs instilled in him by his parents Wayne Lawrence and Marjorie Mock Gregory. His education continued at […]