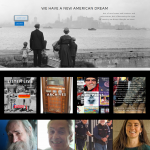 I opened with Leonard Cohen's song, "Sisters of Mercy". I brought in Sheena Powell Szuri, who talked about some of the quotes on our website… and proceeded into the diet of lies that we are force-fed by our president. She encouraged listeners to call him out, to call out all those who promote these lies. A great conversation ensued.
The second segment as usual featured Philip Farruggio with his column "It's the Empire, Stupid." This week he talked about "Duck Soup" and the parallels with today's world. The film poked fun at Benito Mussolini, but today our own Trump would be the target. He and I had a good discussion after he read his opinion piece.
For the third segment we had Frank Cordaro of the Des Moines Catholic Worker (after a little glitch trying to play my talk with Richard Flamer). Frank talked about his morning walks, and how he sings the Our Father and the Hail Mary on those walks, and what they mean. Naturally after that I felt I had to sing the Lord's Prayer as we do it at St. Mark's Episcopal Church each week… After that interview I played Richard Flamer's talk,  where he started off talking about a visitor to his Catholic Worker farm in Chiapas, Mexico, and then discussed the reasons people should donate to the project. It was fascinating, with miracles! I urge listeners to make such a donation…
Richard's talk ended up running into the next segment since I'd started it late. I then introduced Thomas Wertman who wondered what's going to happen in the new year. He discussed the prevalence of drones, and how that might influence the detection of UFO activity… Would they be mistaken for UFOs? Or would they help verify sightings? He also discussed drones that have been flying over Colorado but are not known to law enforcement… A fascinating segment to finish up this week's show.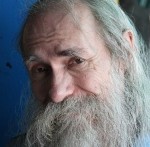 Co-founder and co-host of the show, Chuck lives in Fort Lauderdale, Florida with his wife Lorraine and assorted exotic pets. He was fortunate to attend Friends Central School in the late '60s to hone the already strong core beliefs instilled in him by his parents Wayne Lawrence and Marjorie Mock Gregory. His education continued at […]