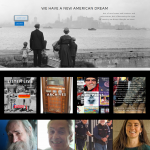 For the New Years 2020 show, I opened with "Girl from the North Country," and then introduced Ava Bird who was our very first guest on the show. She read a wonderful and brand new work. I then played Frank Cordaro's prerecorded interview to complete the first segment. He discussed the anti-drone protest in Des Moines where he engaged the guards in conversation before they arrested him for protesting the ongoing war crimes at the National Guard Drone facility there.
The second segment as usual featured Philip Farruggio with his column "It's the Empire Stupid" and our subsequent discussion. His topic, "How Low Can You Go" which included his description of an open mic comedy event where his audience was not impressed… We had no trouble finding reasons to belabor the lowbrow humor that has taken over not just entertainment but politics.
The third segment featured a prerecorded interview with prison abolitionist Azzurra Crispino. We discussed the massive failure of the justice system in America.
The show wrapped up with Karen Kwiatkowski who is looking forward to solutions to ongoing problems – many of which she anticipates being painful, as things fix themselves in one fashion or another. "What cah't go on forever … won't."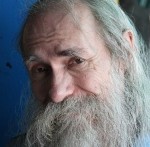 Co-founder and co-host of the show, Chuck lives in Fort Lauderdale, Florida with his wife Lorraine and assorted exotic pets. He was fortunate to attend Friends Central School in the late '60s to hone the already strong core beliefs instilled in him by his parents Wayne Lawrence and Marjorie Mock Gregory. His education continued at […]