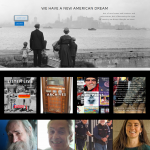 I opened with John Lennon's Christmas Song for this final show of 2019. The first segment featured Mike Bond; we discussed various things including the ancient roots of New Year celebrations, their relation to the solstice, and our mutual hope for a new year with less anger.
Second, as usual, Philip Farruggio presented his segment, It's the Empire, Stupid – Disconnected at Christmas. He pointed out the increased military spending juxtaposed with cuts in food stamps and other support programs. We discussed these and other issues.
The third segment featured Michael Annis and Roseanna Frechette, with some amazing poetry. Roseanna presented the intensely personal story of her mother, and the joie de vivre she exemplified, then read the poem she wrote many years after her mother's death: "Your Ocean."  Michael then presented "Fingerprints" which he wrote for his son Dylan, who died. This was an intensely powerful segment.
For the fourth segment I had Frank Cordaro followed by Julius Awafong. I finished the show by reading a chapter from Rivera Sun's new novel, Desert Song.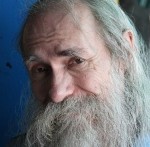 Co-founder and co-host of the show, Chuck lives in Fort Lauderdale, Florida with his wife Lorraine and assorted exotic pets. He was fortunate to attend Friends Central School in the late '60s to hone the already strong core beliefs instilled in him by his parents Wayne Lawrence and Marjorie Mock Gregory. His education continued at […]