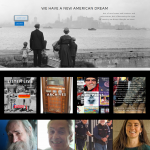 I opened with the Christmas Song (chestnuts…). I then introduced Anthony Rayson who discussed marijuana, the legalization thereof, and the abuse that is part of the government's takeover. It was a great segment.
The second segment as usual featured Philip Farruggio with It's the Empire, Stupid. He told us about the Three Evils identified by Martin Luther King, Jr.: Racism, Excessive Materialism, and Militarism. We discussed things like requiring all police to have a college degree, with at least a minor in Sociology, as a means toward reducing police violence. Victims who have mental health or drug abuse issues often end up dead rather than taken somewhere to get help. We ended up with "Love is God and God is Love."
The third segment started with original Black Panther Larry Pinkney discussing how the divisive nature of politics in our nation is destroying our Republic. Namecalling has replaced intelligent discussion, and it's not a sustainable situation. I then played my interview earlier that day with Frank Cordaro, who talked about the money coming in to fund next year at the Des Moines Catholic Worker. He pointed out the importance of the inclusion of a genealogy for Jesus in the Gospels: the poor did not know their ancestors – that was for the one-percenters. He also talked about the role of the modern church in people's lives.
The final segment featured MK Davis. He led off with the dangers of Christmas shopping… then started talking about history, and the validity of information and education. He mentioned that Eden (as in Garden of Eden) is very similar to Aten (Egyptian monotheistic god), a heretical stance in those days. This let to a fascinating discussion to close the show.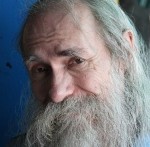 Co-founder and co-host of the show, Chuck lives in Fort Lauderdale, Florida with his wife Lorraine and assorted exotic pets. He was fortunate to attend Friends Central School in the late '60s to hone the already strong core beliefs instilled in him by his parents Wayne Lawrence and Marjorie Mock Gregory. His education continued at […]