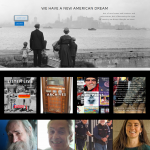 I opened with "O Come O Come Emmanuel" and then played my interview from earlier in the day with Frank Cordaro. He presented the 'infant narratives' – the Gospels from the New Testament. It was a fascinating discussion that took the whole first segment.
The second segment as usual featured Philip Farruggio. He discussed the three-ring circus of American politics, the American Empire. Two rings have the Democrats and Republicans, the third ring the Deep State. That's not Trump's Deep State, but the deeper, more controlling military-industrial complex. This discussion included a call for public funding of elections as a way to reduce corruption.
The third segment featured a phenomenal talk with Richard Flamer, who told us about the Caravan of the Mothers of the Disappeared. It's an amazing story, 13 years of work by volunteers that has managed to uncover the location of some 270 refugees. But the number missing is huge, the abuse horrendous. We discussed the importance of Mother Mary in the Christian worship in Mexico.
The final segment had Thomas Wertman. Some technical issues kept him from hearing me at first, but we finally got connected. Was it UFO interference? (Thomas is part of the Mutual UFO Network, who investigate possible UFO sightings.) He told us a great deal about the operation of MUFON, stressing the importance and quality of the research. Many cases are clearly not UFOs, but some…  Thomas then talked about the Naval sightings by pilots from the Nimitz and the Teddy Roosevelt and the video recordings that have still not been explained.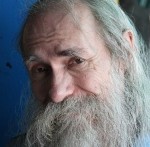 Co-founder and co-host of the show, Chuck lives in Fort Lauderdale, Florida with his wife Lorraine and assorted exotic pets. He was fortunate to attend Friends Central School in the late '60s to hone the already strong core beliefs instilled in him by his parents Wayne Lawrence and Marjorie Mock Gregory. His education continued at […]