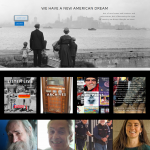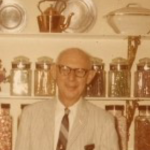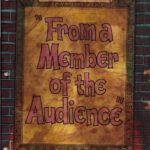 Back home in Fort Lauderdale, I dedicated this show to my father, Wayne L. Gregory.
I opened with a rendition of Du, Du, Licht Mir im Herzen, a song that Dad would belt out when he was "in his cups" and as the show went on I read excerpts from his memoirs, "From A Member of the Audience." I published these vignettes in 2016, and I'm  extremely proud of my dad's writing. He describes many of the actors he was privileged to see in person while attending the theater for over 50 years. You can see more about that book at CWG Press.
The first guest was Ava Bird, who read a brand new piece written specially for our show. "It's hard to keep up with those you-know-whos." Powerful and wonderful. The first segment finished with me talking to Frank Cordaro, who talked to us about Advent, the "most impossible season" for modern Americans who have no patience.
The second season, as always, featured Philip Farruggio with It's the Empire, Stupid. His column this week was especially poignant: The Man in the Bathtub, December 1, 1940: History of a Young Italian Who Emigrated to America in the Early 1900s.
The third segment started with Azzurra Crispino who brought us up to date on a couple of cases she's been fighting on behalf of prison inmates. She had a lot to say about Rodney Reed, in particular. I used the rest of the segment to read my dad's vignette about Ethel Barrymore; he first saw her in 1919.
The final segment started with Julius Awafong, back in week one this month. He presented the upcoming elections in Cameroon, where he lives. I then talked a bit about the Toy Drive mounted by the Central City Alliance. I'm on the board of this neighborhood group, and we're also sending 15 kids to Disneyworld as part of this year's Toy Drive. I closed with my dad's memories of Ethel Waters, who he first saw in 1932.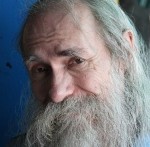 Co-founder and co-host of the show, Chuck lives in Fort Lauderdale, Florida with his wife Lorraine and assorted exotic pets. He was fortunate to attend Friends Central School in the late '60s to hone the already strong core beliefs instilled in him by his parents Wayne Lawrence and Marjorie Mock Gregory. His education continued at […]