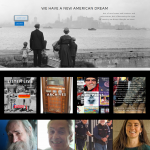 This year the Thanksgiving show was broadcast from Denver. There were some technical issues even though we were streaming from a beautiful location, Michael Annis' studio which is the entire top floor of his house. I therefore have reconstructed everything the best I could.
I opened with Me and My Uncle, since it included Denver in the lyrics… The first segment featured Mike Bond, who presented a pretty positive viewpoint of the rights we still have in the United States. Sometimes I tend to forget that, despite the continual attacks on our freedom from within, we still have more of it than most of the rest of the world. I then played Frank Cordaro's segment recorded earlier in the week.
The second segment as usual featured Philip Farruggio, starting with his latest It's the Empire Stupid column. Philip was gracious enough to stop a little early so I could play Frank Cordaro's prerecorded interview at the end of the segment.
The third part was very special. Michael Annis and I read while Katarina Pliego played cello in the background; we were reading Michael's version of William Burroughs' Thanksgiving Prayer. This was the first time I had a live musician on the show and it was wonderful.
The fourth part featured an amazing story from Karen Kwiatkowski, where she recounted the wild goings-on in her home state of Virginia. The politics of the governorship there have been quite astounding, and Karen's razor-sharp wit was in full force as she described not only the shenanigans but more to the point a town meeting she attended where certain gun control laws were being discussed. Many provisions, such as barring farm kids from being taught how to use the guns that are part of everyday rural life, were clearly out of touch with the people in the state. It was fascinating.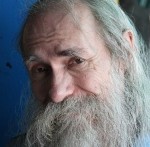 Co-founder and co-host of the show, Chuck lives in Fort Lauderdale, Florida with his wife Lorraine and assorted exotic pets. He was fortunate to attend Friends Central School in the late '60s to hone the already strong core beliefs instilled in him by his parents Wayne Lawrence and Marjorie Mock Gregory. His education continued at […]