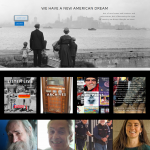 I opened with Beautiful Dreamer, then introduced  novelist, ecologist, war and human rights journalist, and poet, Mike Bond. We had a great conversation despite some technical issues.
The second segment as usual featured Philip Farruggio with It's the Empire, Stupid. His opening column was "The Four Horsemen of the New Apocalypse", and we went on to discuss it.
The third segment had publisher, poet, musician, renaissance man Michael Annis, who presented "Love Poems to Light" juxtaposed with dark poems from the book "Life Sentences – Rage and Survival Behind Bars." This was very powerful.
The final segment started with Frank Cordaro, reporting from the Des Moines Catholic Worker, and closed with Julius Awafong, with his column from Yaounde, Cameroon.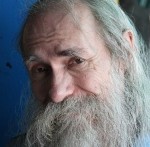 Co-founder and co-host of the show, Chuck lives in Fort Lauderdale, Florida with his wife Lorraine and assorted exotic pets. He was fortunate to attend Friends Central School in the late '60s to hone the already strong core beliefs instilled in him by his parents Wayne Lawrence and Marjorie Mock Gregory. His education continued at […]