April 30, 2020 – Prison Show 2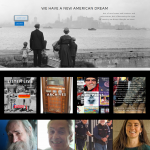 This was a great show in a panel format. All four guests were present for the entire show.
I opened with "Joe Hill" and then brought in the guests one at a time: Canon Petero Sabune, Frank Cordaro, Anthony Rayson, and Azzurra Crispino, in that order. I then turned things over to Azzurra for the first segment, and she gave us insight into the situation at Marion Correctional Facility in Ohio, where her husband is incarcerated. The ensuing conversation included the fact that Anthony and his zines had indirectly been responsible for her meeting her husband!
The second segment was hosted by Anthony Rayson, who led us through "how the whole zine support thing works." He discussed a zine he'd published recently for Julio in Darrington prison in Texas, as well as describing the situation at Cook County Jail where some prisoners have been waiting for 5 years to get a trial! Covid is rampant. Anthony read part of a piece he wrote called The Pandemic of Slavery in Texas, in which he included Julio's statement along with those of others in Texas and Ohio. One of the primary themes was the suppression of communication outside the prison from the prisoners. One inmate called it "A Prison Holocaust". Anthony has been creating zines for 22 years; he distributes them free to inmates anywhere, while collecting and publishing the work of those incarcerated.
Frank Cordaro was host for our third segment. He led off with the minutia of the prison experience, the incredible difficulty of just surviving inside. He expressed gratitude for the work Anthony is doing, and described what he has done as a 'prisoner for peace' and what he and the Des Moines Catholic Worker do on an ongoing basis to feed and house the poor. He mentioned that no one would care about the Covid-19 situation if it weren't that it affects EVERYONE, not just the poor or incarcerated. He expressed hope that this will be a wake-up call for the world, that we will finally realize that it's important to help people. The heroes are those who are serving others. Even the police and military, traditionally focused on guns and violence, are in the front lines of the effort to support those in need. Azzurra asked Frank about the experience of being sick (or observing someone who's sick) when in jail. Frank described someone who got no help when apparently going through withdrawal from some addiction… Petero also described times when he, as prison chaplain, had to intervene to get medical help for inmates who were being ignored by the staff. This segment became quite lively as Frank and Petero exchanged horror stories, then Azzurra stated that "it's always about the money" and she sees little difference between the private and state-run prisons: they are all for profit. Anthony brought up the release of prisoners, historically in Iraq and Iran and now in the USA. He discussed how the government is ineffective in the pandemic and prisoner releases worldwide are changing the complexion of world society. At the end I asked the guests to share contact info, and we got:
Azzurra Crispino is founder of http://www.iheartpaps.org/ and welcomes contact via the website
Anthony Rayson works mostly in print but welcomes email at anthonyrayson@hotmail.com
Heading into the final segment, I collected more contact info:
Frank Cordaro, frank.cordaro@gmail.com – he also mentioned Via Pacis the thrice-yearly newspaper he publishes
I then introduced Petero Sabune, who led off by mentioning his membership in Pax Christi International and went on to discuss the recent death of Denis Goldberg, a colleague of Nelson Mandela who was the third and youngest defendant in the Rivonia Trial. He stressed the global nature of the pandemic. He talked about funerals of those who died in prison, specifically in Sing-Sing where he was a chaplain for many years. He mentioned a prisoner who said he didn't want to die in prison. "Every saint has a past; every sinner has a future," said Warren Buffet on a prison visit. Tony Dungy and Harry Belafonte visited, too. Petero shared a song, "I am not forgotten," and played the drum for accompaniment! Petero said that GC (general confinement) really means "God's Child." Petero mentioned food giveaways where people are working to help others, and I mentioned my own participation in one, but also Mickey Z's Helping Homeless Women project (https://www.gofundme.com/f/helphomelesswomennyc). Petero was kind enough to grant some more time to Azzurra, who brought up the plight of women in prison. Incarceration is not just a male problem; she mentioned a woman who gave birth while behind bars, then died of Covid-19. Petero continued with discussion of what's going on in New York – people sleeping in the subway get kicked out, where do they go? Churches are closed, they can't go there. This is a crisis, but also an opportunity for us to find new and creative ways to help. He then mentioned his contact info:
Petero Sabune, p.o. box 882, Ossining, NY, 10562, peterosabune@gmail.com
This was a tremendous show, and I hope to repeat it soon. It was a pleasure, and a privilege, to bring these wonderful guests together.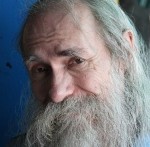 Co-founder and co-host of the show, Chuck lives in Fort Lauderdale, Florida with his wife Lorraine and assorted exotic pets. He was fortunate to attend Friends Central School in the late '60s to hone the already strong core beliefs instilled in him by his parents Wayne Lawrence and Marjorie Mock Gregory. His education continued at […]