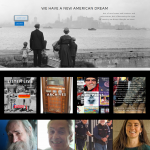 I opened with a song dedicated to all the first responders: Forever Young. I then introduced Ava Bird, who brought us more thoughts from The Family Cat. Great stuff! I then played my earlier conversation with Frank Cordaro, who discussed his lockdown at Berrigan House (Des Moines Catholic Worker) and their thrice daily prayer sessions – not the normal activity before Covid.
The second segment as usual was Phil Farruggio's It's the Empire Stupid, which he led off with his column, Four Dead in Ohio: Feeding the Beast. We had a great conversation after that. Phil's work is published all over the internet, and collected at itstheempirestupid.com where his wonderful audio interviews may also be found.
For the third segment I played Azzura Crispino's column recorded earlier that day. She is a prison activist who founded Prison Abolition Prisoner Support. She read a very powerful letter from an inmate in Ohio, and encouraged listeners to write letters to prisoners – they really need communication with the outside world. I closed by talking a bit about the two Prison Shows where I invited Azzurra as well as Petero Sabune, Anthony Rayson, and Frank Cordaro to participate in a panel discussion. Azzurra and Petero, who met on this show in the first of those panels, have been communicating with each other on some of the prison issues, and that makes me feel like I started something that might make a difference.
For the final segment, I introduced Karen Kwiatkowski, who talked about Coronavirus and its interesting, fascinating aspects. She started off mentioning the charges that were dropped against Michael Flynn, vacating the guilty plea he'd entered earlier. She likened the Justice Department in their attack against Flynn (which cost him $10 million for his defense) to a cat playing with a mouse… Her entertaining discussion continued into the topic of Covid and the government response. Nobody has a clue, she said. But they are all talking, endlessly. Karen expressed "just a little" frustration… She said her life really hasn't changed that much, since she's in a rural area. She thought that many of the changes from people isolating will be long lasting, and some of them are quite positive. We had a great conversation to close the show.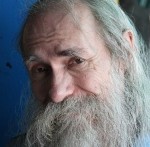 Co-founder and co-host of the show, Chuck lives in Fort Lauderdale, Florida with his wife Lorraine and assorted exotic pets. He was fortunate to attend Friends Central School in the late '60s to hone the already strong core beliefs instilled in him by his parents Wayne Lawrence and Marjorie Mock Gregory. His education continued at […]