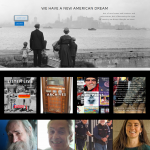 I opened with If I Felll then introduced Sheena Powell Szuri, who noted the huge changes in the world since her previous appearance a month earlier. To give us some respite from our isolation, we discussed some of the things people are doing online: Patrick Stewart, Keith Urban, and Amanda Palmer. She then read two poems: her own The MIghty Oak, and Sherwood Ross' The Astronomers. We proceeded to discuss online opportunities and planned to do a poetry zoom (that still hasn't happened as I write this on May 29). She mentioned the Jazz Yoga events she is doing on WDNA.
The second segment as usual featured Philip Farruggio's Its the Empire, Stupid. He opened with his column Crocodile Tears. We proceeded to discuss the charitable donations of the super-rich and their "huge" donations – which are tiny percentages of their actual net worth. The pandemic of greed.
The third segment this week had Richard Flamer in a prerecorded interview from Chiapas, Mexico. He discussed the Coronavirus and government response in Mexico. Economy is typically a day-to-day affair, with women buying that day's food for their families, etc. The poor have given up their shared rooms in the cities and moved to their rural homes. Roadblocks are in place to prevent entry by non-residents. People are buying in quantity from Sam's or Wal-Mart and reselling at huge profit at regional markets. He described how immigration authorities bused 480 Guatemalans and Hondurans from holding facilities in northern Mexico to the Guatemalan border and dumped them off. Guatemalan troops refused to let them cross the border. The National Guard was called in to quell a riot. Meanwhile the drug cartels continued their violence, but the biggest conflict came when President Lopez-Obrador tried to shut down alcohol sales. He discussed an economic plan that was being implemented that included public works projects to build infrastructure and money going to the people, not big business. Basically, it's the New Deal. He described a booming music scene with street musicians jamming on Facebook, etc. He described his own life, social distancing, visits over the Internet with his wife Araceli who is in Des Moines. He mentioned the passing of Bill Withers and John Prine and what a loss that is, including his personal memories of them. This great conversation led well into my next conversation with Frank Cordaro at the Des Moines Catholic Worker, which completed the segment.
The final part of the show had Thomas Wertman discussing what's happening in the UFO scene in Ohio. Current reports had dropped due to people not going outside, so he had time to research reports from Navy ships NImitz and Teddy Roosevelt in which videos showed something unidentifiable. The Navy has updated their procedures for reporting in recent years; what about the Air Force? These questions are being suppressed by the government. It was a very interesting segment.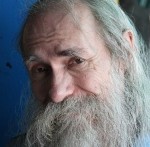 Co-founder and co-host of the show, Chuck lives in Fort Lauderdale, Florida with his wife Lorraine and assorted exotic pets. He was fortunate to attend Friends Central School in the late '60s to hone the already strong core beliefs instilled in him by his parents Wayne Lawrence and Marjorie Mock Gregory. His education continued at […]