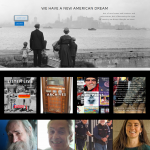 I opened with Brokedown Palace, then talked about the recent death of Mike Ringley, owner of Revolution Radio, and Robert Hunter, longtime lyricist for the Grateful Dead. Too many people dying… Then I played the first half of my conversation with Deborah Cullins Smith, where we discussed her trilogy, The Last of the Long-Haired Hippies. I also run CWG Press and I'm proud to have published this phenomenal work.
The second segment as always featured Philip Farruggio. We heard his column, It's the Empire, Stupid, and then he and I discussed the nature of evil, drugs, weapons… and the Bedford Incident.
The third segment featured Michael Annis who did a tribute to poet Frank Winters, a personal friend… Michael read some very impressive poems by Frank.
The fourth segment had the conclusion of the Deb Cullins Smith interview followed by our columnist from Yaounde, Cameroon, Julius Awafong.I closed with Ripple.