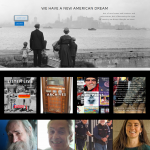 I opened with Dites Moi in honor of my mom, who would have been 105 on this day. I then introduced Sheena Powell Szuri, who talked about the impact of music and art on today's society. She was discussing the protests around the country, and how white people are taking up the cause of supporting black people… I pointed out that we'd done that in the '60s, and then become complacent. We went on to have a great discussion.
Next as usual we had Philip Farruggio with It's the Empire, Stupid. His column this week was "Niggas" — a hard look at race relations. We had an illuminating talk for the rest of the segment.
The third segment featured Richard Flamer from the Catholic Worker farm in Chiapas, Mexico. He talked about jail time, and how his jail experience on civil disobedience charges had led to his being better prepared for the isolation forced on us during the pandemic. He talked about it being easier to park in San Cristobal these days, and the changes due to this crisis. He discussed how the poor people live day to day, the crowded market being their only option due to limited means. Beggars are on the increase. It was wonderful as always. I then played the earlier recorded interview with Frank Cordaro at the Des Moines Catholic Worker, and he expounded on the white support for black protests.
We moved on to the final segment with Thomas Wertman of Ohio MUFON who talked about a recent event that triggered a huge number of calls for him to investigate. Someone had supposedly witnessed a UFO crash in Brazil, and the story was published on YouTube. He discussed the investigation of such events, and followup posts that were being taken down, and then … the weapons facility in the area that was testing explosives that was likely the true source of the event. It was illuminating.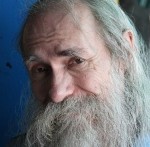 Co-founder and co-host of the show, Chuck lives in Fort Lauderdale, Florida with his wife Lorraine and assorted exotic pets. He was fortunate to attend Friends Central School in the late '60s to hone the already strong core beliefs instilled in him by his parents Wayne Lawrence and Marjorie Mock Gregory. His education continued at […]