For the very first New American Dream Radio Show, your co-hosts Chuck Gregory and Mike Palecek were proud to have as featured guests activist Frank Cordaro & poet Ava Bird.

The poems Ava read on the show are available at the following links:
Voting is for Fools
9/11/2001 Fairy Tale

[audio:https://newdream.us/wp-content/uploads/2015/08/american_dream1.mp3|titles=american_dream1]

Click links below to expand the excerpted text from the show:

introduction

Chuck: I'd like to welcome our listeners to the very first edition of the New American Dream Radio Show. We'll bring news and views about what's happening in America today, and we'll have guests to help us out. We'll ask uncomfortable questions but that is not our sole purpose. We want to celebrate the good stuff too. One good thing is that we can do a show like this, that Mike can write a bleeding edge novel every year–that we can stand up for free speech, free press, and freedom in general. It's by exercising those rights that we best preserve them, and that's why I believe that we are the true patriots. We care.

And now without further ado I'd like to introduce my co-host Mike Palecek, an American writer. I used to write reviews about his books and now it is my honor to publish them. Mike has a unique vision, a quirky imagination, and an incredibly strong voice for America.

Mike: Hey, Chuck, you didn't tell them who our guests are! On this, our inaugural show, we are proud to welcome special guest Frank Cordaro and poet Ava Bird. We look forward to those segments.

===========

The New American Dream

Mike: Chuck, what does the concept of The New American Dream mean to you?"

Chuck: Mike, a great American of our time told us that he had a dream 'that one day this nation will rise up and live out the true meaning of its creed: "We hold these truths to be self-evident: that all men are created equal."' He died for his dream, one of many in that decade of assassinations. His dream did not die, and although in many ways we are closer to it now than we were then, in many ways we fall woefully short.

I have a New American Dream. I dream that we can work together, and play together, in peace. I dream that we can help each other instead of tearing each other apart. I dream that we can lead the world by doing good rather than dominating it, or failing to do so, because we imagine we are better than everyone else. I dream of a world of equal opportunity, where no one starves and we all accept each other, faults and all. I have this New American Dream.

What do you think, Mike?

Mike:

Obama election, believing in Hope – openness, no wrong questions, Truth – becoming the type of people, nation that we always thought we were.

You have to know that Barack Obama knows the whole truth about the 9/11 attacks. He is complicit. He has lied. He has continued the wars in Iraq and Afghanistan based on a lie. And he knows he is lying.

For what reason? Who knows. But based on Nuremberg, Barack Obama is a war criminal, just as George Bush and George Bush before him, Dick Cheney, Donald Rumseld, Condoleeza Rice, the whole bunch. And yet they go on living their normal lives.

It's wrong … and it's frustrating.

I really, deep-down believe in this whole thing. To me, to know the truth about our history is the most important thing, period.

JFK, RFK, MLK, COINTELPRO, CIA here and overseas, Paul Wellstone, Oklahoma City, Waco, Pearl Harbor, the Bush election, Leonard Peltier, Clinton and Mena – the whole history of George H.W. Bush, 9/11 and on and on. I really can't understand why any other sort of learning, physics, biology, math, or really any type of religious study I suppose – I mean, we can't really find out if there is a God, not yet anyway – but we should be able to know the truth about our own history, here and now … and we don't, by a long way, and that really, really bugs me.

Taxes – we pay for these lies – this lie that the military protects us – this lie that the USA stands for freedom. This lie that it's okay to kill.

I wonder if we will ever have the courage to do what the people of Egypt are doing today. It's not because we don't have a reason. It's more in line with have we got anything better to do today. The ones with the power desperately depend on our being afraid. We cannot be afraid.

===============

Thanks to the Rock Creek Free Press and Peter B Collins for sponsoring our show. Please visit our sponsor page on this site to see how you can thank them.
https://newdream.us/sponsors/

===============

News Intro

Chuck: We all know by now that the daily newspaper in our town or the local television station or the national news hour or the local radio news hour is not going to cover anything that is upsetting to the power elite.

Not even National Public Radio

Not even the Sunday bulletin at Our Lady of Good Rapport

… and that's a sorry situation

It's far too similar to the way things were in the Soviet Union, back when there was one. There, the newspapers were state-controlled: Pravda, or "Truth," was the voice of the Communist party, and Izvestia, or "News", had official Soviet news. And a popular saying was "v Pravde net izvestiy, v Izvestiyakh net pravdy" (In the Truth there is no news, and in the News there is no truth).

Their answer was Samizdat, in which individuals reproduced censored publications by hand and passed the documents from reader to reader. We don't have censorship here, of course…

Mike: Oh of course not.

Chuck: It's important in any society to have a way of passing along accounts of what is really going on. The Internet—podcasts, twitter, and other man-on-the-scene reports—are the modern version of the printing press that first made this possible on a large scale. But the government wants to be able to shut down the Internet in emergencies. Could it be that they want to be able to spin the news to their liking, before letting it out?

—-

News 1 Nuclear Resister

[From The Nuclear Resister [newspaper put out by Jack & Felice Cohen-Joppa since the 1980s]

January 27, 2011

Creech 14 Found Guilty, Sentenced to Time Served…]

—-

—-

News 2 Nuclear Resister

This also from the Nuclear Resister

January, 2011

Dear friends,

Over the years we have spent time in prison and/or supported other activists who have been in prison for acts of conscience.  We write to you now with a special request on behalf of Helen Woodson…

—-

News 3 - National Catholic Reporter

—-

News 4 - From New Hampshire Peace Action

Dear Friends,

Don Booth passed away peacefully Friday morning January 21,
with family at his side. He was 94. We were very fortunate,
as Don had squeezed every last available second out of his life,
right to the end. He took so much joy in the people around him,
that even …

—-

News 5 -From the New York City War Resisters League

A list of upcoming Spring actions:

* Mar. 19 (Sat.) Public war tax resistance display in Union Square, 11 am – 4 pm, organized by NYC war tax resisters and NYC WRL

* Mar. 19 (Sat.) White House civil disobedience, organized by Vets for Peace

—-

News 6 - From the Omaha Catholic Worker

Fr Jack recently learned that he has lung cancer. He is at Bergan Mercy Hospital Rm # 386 in Omaha NE to determine what kind of treatment he will receive. He is facing this recent challenge with courage and a strong faith. We ask you to remember him in …

==================

Submit your news events to radio@newamericandream.info

==================

Wal-Mart ad

Chuck:  This program is also being brought to you this week with the help of a grant from Wal-Mart and the United States Department of Homeland Security.

Remember shoppers …

Homeland Security begins with Home Town Security.

If you see something in the parking lot or in the store, say something immediately, report suspicious activity to … hmmm …. just a minute … I'll find someone … I'll be right back.

…

Has someone helped you yet?

I'll find someone. I'll be right back. Actually, I'm off in two minutes. No, I'll get someone. I'll be right back. … Okay? …

…

…

If you need help, ask a Wal-Mart employee.

They will provide assistance within four working days. …

You may wait on one of the plastic benches outside the men's and women's restrooms.

Have you applied for one of our gift cards or store memberships?

Welcome to Wal-Mart.

…. ummm

We're Wal-Mart and the United States Department of Homeland Security.

Thank you for shopping.

==================

Poet of the Week - Ava Bird

MIKE: Our first guest poet will be AVA BIRD of Berkeley, Caifornia.

She is an activist writer, a raw food chef and a divine seeker of sustainable living.

She looks forward to the new American Dream!

Ava Bird is the author of two new, combustible, edgy and hilarious books of poetry and prose:

"Rage Against The War Machine!"

&

"The New Now"

… soon to be released by Beatitude Press of Berkeley.

For copies, please write to Ava at ompoem@hotmail.com

[Ava read two wonderful poems for us. The full text of the poems is available under her name in the guests section.

==================

The Big Lebowski

MIKE – TRIVIAL AMERICA, the contest

Opening scene of The Big Lebowski in Ralph's grocery, The Dude is writing a check for 69 cents. What is the date on that check?

Be first person to email the correct date to the show and receive a free signed copy of "Camp America."

radio@newamericandream.info use subject: contest020311

or write mike: mpalecek@rconnect.com

*Talk about upcoming Lebowski Fest in Ohio.

==================

Special Guest of the Week - Frank Cordaro

Chuck: Frank Cordaro is a lifetime career activist for peace and justice. He currently resides in Des Moines, Iowa, as a member of the Des Moines Catholic Worker (DMCW) community www.DesMoinesCatholicWorker.org  providing daily hospitality to needy people. Cordaro helped found the DMCW in 1976.

Frank can be eloquent on a number of topics having to do with activism and resistance. He told me he wants to tell you why more Christians should be in jail! I thought that sounded like a great way to kick off this interview—so that's what we are going to do. Frank, I welcome you to our show—take it!

[Frank discussed the early days of Christianity, when believers were often locked up or executed for their belief. He mentioned that, if Jesus were born today, in the same place, he would be a Palistinian not a Jew! And the same persecution would go on, just as it did 2000 years ago. He talked about the difficulty of being a Christian today, the prevalence of people who are not strong in their beliefs, etc.]

==================

The News from Mount Liberty

Mike: Well, it's been a long week in Mount Liberty, Nebraska … my hometown.

On Monday morning, at two in the morning, Barb Peterson dropped her kids off at Kid's Korner home daycare, so she can get the the 3 am shift at Thomas' Egg Plant.

Now she's got the '73 Ford Impala — that her father had in high school and now that he's passed she gets it, and now it doesn't work.

Barb works on the line with Luisa and Margaret Rosales selecting eggs off a conveyer belt and placing them in packs of 12 & 18.

They come from the 100,000 hens laying in the 12 barns up on the hill and shipped by that conveyer belt down the hill to the plant and then by 7 am they arrive miraculously at The Café and The Diner and Stop & Go.

Barb's second job is at Stop & Go. She doesn't work there every day, but the days she does she gets her mom or her sister to help with the kids, And one weekend a month she works the weekend shift at a group home.

Margaret is Luisa's daughter.

They came to Mount Liberty from Agua Prieta, Mexico, cross over to Douglas, Arizona and evade the Minutemen and Border Patrol and walked up here.

Margaret is a junior at Mount Liberty Senior High School and wants to go somewhere to study nursing.

In her used parka, in the front pocket, Barb carried an unopened letter from her brother in Afghanistan. She put it there the day before when she got the mail and it was still there when she kissed her sleeping children goodbye this morning.

At work she hung up her coat when she put on her white apron. She grabbed the letter and shoved it into her back pocket, then hurried to tie the apron in back on her way to her station.

She jabbered with Luisa. They laughed together about how they both would be there until they died and not a single day more.

"Es-ta, es-tas, es-tamos, es-tan," Luisa said, and Barb repeated. She had asked Luisa to teach her.

Barb thought about the call she had answered at home from the military recruiter about a year ago. Barb had stopped by to do some laundry and visit with her mother and let the kids run a little.

The recruiter, a Sergeant Colinson, Collison, something like that, had asked to speak to Seth. She knew who it was and she still went to get her brother, all the while searching around the house that she knew what this could mean. She had argued with Seth about signing up for the draft, for registering for the selective service and he had said, "You know I have to, I don't have a choice. It's not that big a deal. It's just something I have to do, everybody does."

"Yes, I know," she had said.

"And besides, if I don't, how can I get money for college? I want to go to college."

At 10 am break, Barb walked with Luisa to the lunchroom along the hard shined concrete. They stood in line at the vending machines. Barb's quarters fell through on her first try, but then she heard the thunk … thunk and then her cheese and crackers slid down pretty as can be.

They found their regular spot, first picnic table in the second row, north side bench, facing the coffee machine.

Luisa began to speak to Margaret in Spanish. Barb unwrapped her crackers, began to crunch and try to keep up with the conversation next to her, then reached to her back pocket.

She studied the foreign postmark. She folded it again and began to return it to her back pocket, then she sighed and set it again in front of her.

She reached and pulled it out, unfolded it and held it in front of her, recognizing the sloped script as if she were seeing Seth's face right there in front of her.

The date was two weeks old.

Her mouth quivered.

Her lips moved as she read.

CHUCK READS THE LETTER:

Dear Barbie,

Hey, how goes it?

Long time. No see.

How's Sooz and Thumper? They keeping you hopping? I miss them, miss you, too, a lot. Say hello to Mom. I'll write to her too. If you get this first, tell her that hers is on the way, okay? Okay?

This is something else here, sis.

I'm not sure what's what. I guess maybe I haven't been here long enough, but it seems like forever. …

MIKE BEGINS READING AGAIN:

Barb could hear Luisa talking and she was aware of others getting up and sitting down around them, but she felt them from far-away, from Afghanistan, in the mountains, with her little brother.

They were playing whiffle ball in the backyard. She was throwing him her lefty super-de-dooper curve ball because you could do that with a whiffle ball and nobody could hit a whiffle-ball curveball, but Seth did. He hit this one way over the peony bushes and into the street and they were just playing together the two of them so they had to chase their own hits … so Seth says, "I'll get it!" And before she can say anything he's running right past her on the pitcher's mound and across the yard and into the street and this car that they couldn't see because the pickup was parked on the curb slams on its breaks and it squeals and there's a sickening thud like cantalope on concrete and she can't see anything because of the pickup and she screams and runs and finds Seth on the pavement and he's out of breath and his leg is bleeding where the car grill cut him and he's smiling.

And he lay there bleeding and making Barb and the driver feel all right … that he wasn't really hurt and he was okay and it was his fault, he shouldn't have run into the street.

Barb had just gotten her license and drove him to the hospital for stitches and took him out for ice cream and said that he should never have run off like that.

"I could've gotten it," she said.

"Oh, it's okay," he said. "I wanted to. No problem, don't worry about it."

Barb read the front of the letter and turned it over, and then turned it over again and read the front again, and then slowly she turned it over again to read the back of the letter.

She read about the routine of military life, the complexities, the inconveniences, the rules, the weather, and the people.

And she read about dead people.

CHUCK READS:

"There have been casualties.

"We got hit. Two of our guys were killed out-right, three were wounded, one pretty bad."

"I'm okay… Barb, I killed somebody. Oh, God, Barbara, I shot someone dead. I walked up to him and he just lay there and I could not make him get up. He just lay there and he would not get up and he was dead. He had a dead face and dead eyes and dead hands. And his feet were dead.

"I touched him with my boot and then I pushed a little more and then I was angry at him for being dead and then I just squatted down and I cried. I cried because I knew I was ruined. This would never be all right. This would never be over. It would never be the same. Nobody could ever make it all right.

"I killed someone.

"And I'm afraid I'm dead too.

"I'm scared, Barbara. I'm dead but I have to keep living. I'm not sure I can do that. It might be too much work and so I'm scared. Really, really scared.

"Please help me."

MIKE BEGINS READING AGAIN:


Barbara read the last few paragraphs but didn't really see the words.

Luisa nudged her and they were up, tossing their trash and pushing out the doors into the noise of the plant.

Luisa was still visiting with Margaret. Barb turned away to wipe her eyes with her entire arm.

Margaret worked for a while longer, then left for school. On Tuesdays and Thursdays she stayed until almost noon.

At the end of the day Barb was happy because she didn't have to go Stop & Go today. She took her one free carton of eggs that she was allowed and headed for the Impala, praying it would start, then skidded off to get her kids.

That night Barb read the children a book and tucked them in.

She kissed them. "Buenos noches," she smiled. "Buenos noo-oches Mo-oom! Goodnight!" they yelled. "Shhh," she said. "Goodnight, goodnight."

Barb walked herself downstairs one step at a time by the wooden hand rail and went to the kitchen.

She reached for the diet Coke that had been calling her name and brought it with her to the table where Seth's letter sat next to the envelope.

Barb read it again and then reached into the basket by the table for the phone book.

She found the C's and ran her finger slowly down and up the lines.

"Col-lison, Colinson. Colinson.

"709 Ninth Street," she said to herself.

She killed her drink and returned to the refrigerator, bent down to pull something out and let the door close on its own.

She stuck her head in the door of the kids' room and then tip-toed in. She hunched down to see that both were breathing and sleeping.

She hurried out, leaving the door open a crack.

Barb hurried to her car, started it and sped off.

It's only two blocks, she told herself. Three. Only three.

She leaned over to get the flashlight from the glove compartment and shined the light on the house numbers as she putted along.

"705," she said, "707. 709."

She stopped, got out with her carton of eggs. She walked slowly toward the house, holding the carton in her right arm and grabbing and firing with her left hand. Boom-boom-boom. She walked and she fired until she was out of ammunition. She dropped the empty carton on the walk in front of the house and walked back to her car.

She went home and ducked back into the children's room.

They were still sleeping, unaware of all that was going on outside, at this very moment. Barb smiled to herself in the dark at the thought.

She pressed her back into the wall and let herself slide down to sit.

She sat there in the dark in her children's room, listening to them sleep, and she smiled, and she breathed a deep breath … and all was okay for a while.

… that's the news from Mount Liberty, Nebraska …

… where all the police are thugs

all the Democrats are cowards

and all the journalists … are about average.

==================

ZEKE's Free Speech Zone ad

Mike: This message brought to you by Zeke's Free Speech Zone, Inc.

The first question to ask yourself if you feel the need to speak is why?

If what you have to say is so important why not keep it to yourself.

You are important. You are an American, the most important people in the world.

Zeke's Free Speech Zone, Inc. of Des Moines.

We're here to help you.

If you feel overcome with the need to speak out, give us a call.

We'll send someone right over.

Free Speech Zone, Inc.

Don't leave home without us.

==================

Thanks again to our sponsors, Rock Creek Free Press and Peter B Collins

==================

Chuck: Thanks, Mike, and Good Night.

Mike: Good night, Chuck.

… goodnight Mrs. Calabash … good night Ken Lay, and goodnight Barbara Olson, wherever you are.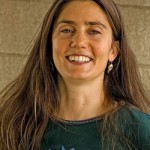 Ava is a monthly columnist appearing the first week of each month. Ava Bird was our very first guest and we always look forward to her visits. We love to listen to her read. Ava's books are currently not available but you can see her blog at birdblogblast.blogspot.com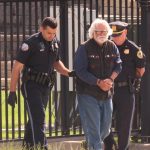 Frank is a weekly guest on our show. Frank Cordaro is a member of the Des Moines Catholic Worker. He is a former Catholic Priest. He has himself spent years and years in federal prison for crossing the line at Offutt, and more recently has been jailed for actions against the drone facility in Des […]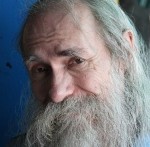 Co-founder and co-host of the show, Chuck lives in Fort Lauderdale, Florida with his wife Lorraine and assorted exotic pets. He was fortunate to attend Friends Central School in the late '60s to hone the already strong core beliefs instilled in him by his parents Wayne Lawrence and Marjorie Mock Gregory. His education continued at […]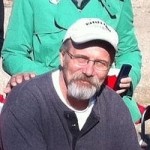 Co-founder and co-host of the show, Mike Palecek is a writer who lives in Saginaw, Minnesota, west of Duluth. He is a former federal prisoner for peace; was the Iowa Democratic Party candidate for the U.S. House of Representatives, 5th District in the 2000 election, gaining 65,000 votes on an anti-war platform in a conservative […]