For the New American Dream Radio Show on Friday, February 10, 2011, your co-hosts Chuck Gregory and Mike Palecek were proud to have as featured guests activist Debra Sweet & poet Doug Draime.

Click links below to expand the excerpted text from the show:

introduction

Chuck:

It's hard to believe a week went by already since we kicked this thing off. That stuff about time going faster as you get older is right on the money. Not that I'm particularly old, not even 60, in fact. I went over to my mom's house today to visit her—she still lives there, by herself, at 95 and a half—now that might be old. Don't know though. She's an inspiration for sure.

I've talked to a few people about what we are doing here, what we did on the first show. A friend from Chicago really liked the poet, a friend from Sweden really liked my reference to Martin Luther King, one from Cameroon was just interested to hear what I sound like…I'm just glad they cared enough to listen. I hope there will be lots more people listening as we make this show work better every week.

Before I hand the mike to Mike I'd like to mention Peter B. Collins, and his free podcasts at www.peterbcollins.com, who is sponsoring us in support of more progressive voices and critical thinkers in the media."

And now my friend and co-host Mike Palecek will tell you what's in store this week.

===========

[Mike mentions our guests, Doug Draime and Debra Sweet]

===========

The New American Dream

Mike:

New American Dream – it's about values – it's actually old-fashioned …

The American Dream we have today is all about wealth, attainment of stuff… that's why it's coming down.

You know, when you see something like a state or national park or an eight hour day or getting women the right to vote, or a social security program — you can tell that someone cared – perhaps spent their whole life making sure something good happened – not based on simply attaining …

But that is why it's all coming down now – so much geared toward getting more stuff. George Carlin was right.

The New American Dream – if there is time, gets us back to the good stuff.

… ON the other hand we all must admit we live in fascinating times.

…

… the idea that we live in an age when Bigfoot and UFOs have not, in quotes, been "discovered" yet – and when we can still research such fascinating topics as the JFK, RFK, MLK murders, WACo, Oklahoma City and 9/11 mysteries – not that they are fun, but that they are fascinating – and still not discovered or accepted by the mass culture …

… some say it's goofy, this stuff, not real, conspiracy stuff, and yeah, I'll give you that, it can appear that way — but it's goofy only if you don't read anything. I suppose it's goofy sounding if your sense of reality comes from American Idol, Today's Best Kitchen, America's Biggest Hamburger, Brian Williams, Katie Couric and Bill O'Reily and Jim Lehrer.

That's the way it was when I was a kid. We watched Gunsmoke, Bewitched, My Favorite Martian, The Flying Nun, Gilligan's Island, and thought that was all we needed to know.

So when they told us Lee Harvey Oswald killed JFK and that James Earl Ray killed Martin Luther King and Sirhan Sirhan killed RFK, we said, okay — and then went into the kitchen for an ice cream refill.

My first inkling about what this country is really about came when I went to seminary in 1979, up to Saint Paul – Dan Berrigan came to speak – talked about going to prison, as a priest – and about America and the church – and I told my parish priest, and he said, forget about what Dan Berrigan was saying. I thought it over and over and ended up forgetting about what my parish priest said.

… my realization about what this country is really about, what it has become is when they ruled that Bush won the election by stopping the counting of votes – same year that I ran for Congress [Democratic Party] … of course they killed the Kennedys, they can do anything they want –

[you might ask, who are "they?" good question – another fascinating mystery to work on in the laboratory of the United States of America]

… and you can say that's conspiracy tinfoil, to think like that, about the Bushes and the assassinations and such, but I say it's just paying attention.

Remember, "they" want us to be afraid.

We cannot be afraid.

===============

Thanks to the Rock Creek Free Press and Peter B Collins for sponsoring our show. Please visit our sponsor page on this site to see how you can thank them.
===============
Profiles in Heart
Chuck:
To those who have given or are still giving, their heart and soul … helping us all have a better world.
Our thanks for caring.
And …
Remember.
Mr. Byron does not teach American History in Room 203 at 10 am in Sheboygan. He didn't yesterday. He won't tomorrow or never.
Mr. Byron doesn't know anything about American History.
He does not want to.
And that's why he's been there for thirty-three years.
…
If any of these names are not familiar, give them a Google Search.
Again, our thanks.
Chuck: Lori Berenson
Mike: Julia Butterfly Hill
Chuck: Philip Berrigan
Mike: Helen Woodson
Chuck: Carl Kabat
Mike: Paul Kabat
Chuck: Larry Cloud Morgan
Mike: Karen Kwiatkowski
Chuck: Luke Rudkowski
Mike: Kevin Barrett
Chuck: Jim Fetzer
===============
Our Question of the Week:
Send in your answers to radio@newamericandream.info We'll read them on next week's show.
"Wikileaks – are they for real, or are they a CIA or Mossad concoction."
===============
Comments and Letters
Chuck:
Mike made a comment on our original New American Dream website, newamericandream.net, stating that Paul Tibbets, pilot of the Enola Gay that dropped the atom bomb on Japan, is a killer, not to be honored. We had two comments on that.
There's an anonymous comment, "We reject any notion that Paul Tibbetts is an American hero. This is the most feckless thing I have read in a long time."
And Nancy A. Brown chose to leave her name when she said, "How dare you call Paul Tibbets a killer. He did what he was ordered to do. How many more Americans would have died if the war was not stopped. You were not there and don't know all of the circumstances, as I'm sure none of us do. Don't judge a man until you've walked in his shoes."
On a personal note, I probably would not be here today if not for the atom bomb being dropped on Japan. My dad was scheduled for the invasion. And despite that personal tie, I still have doubts about what we did. Yet as horrible as that bomb was, we killed more people in the firebombing that went on earlier, and there's no telling how many would have died in an invasion. Doesn't seem that there was any good resolution to that mess.
===============
News Briefs-Intro
Chuck: We all know by now that the daily newspaper in our town or the local television station or the national news hour or the local radio news hour is not going to cover anything that is upsetting to the power elite.
Not even National Public Radio
Not even the Sunday bulletin at Our Lady of Good Rapport
… and that's a sorry situation
… and so we need Samizdat, as in the Soviet Union… a way of passing along accounts of what is really going on — which might sound like exaggeration while we have access to the Internet, but if the Internet ever does get shut down, we will certainly have to find other ways to communicate, to get the truth about what is happening.
—-
the first item we have tonight comes from Gary Kohls in Duluth.
Mike:
The White Rose in Egypt:
"A Call to All Germans" (and Egyptians and Americans and others knowingly or unknowingly suffering from the tyranny of the ruling elites and their thugs)
The Story of the White Rose Resistance, Munich, Feb. 1943
by Gary Kohls
Many of us have been following the important young people-inspired Egyptian Revolution in Cairo (including coverage of the brutal repression by the US-supported "friendly" fascist dictator Hosni Mubarak's security forces and assorted hired thugs).
The courageous actions of the tech-savvy young Egyptians reminds me of another group of young patriots who likewise resisted, at great risk to their lives, another thuggish regime: fascist Germany, 1943.
That group of young Germans called themselves the White Rose. The core group consisted mainly of college students who were fed up with the lack of resistance against Hitler from their elders and decided to do something about it. They were clear-eyed, altruistic witnesses to their nation's corrupt war-mongering tyrants, who were about to bring ruin to the nation that they loved.
The Egyptian Revolution is replicating the White Rose Resistance Movement
The public is invited to a free showing of the powerful entitled "Sophie Scholl: The Final Days". The Academy Award-nominated movie (for best foreign film of 2005) will be shown on Sunday evening, 7 PM, February 20 at Peace Church UCC, 1111 East 11th Ave North, Duluth.
The film portrays the true story of the brief life (albeit with an eternal message) of the White Rose movement, told through the last days of the life of Sophie Scholl, the youngest and only female member of the doomed core group that wrote and distributed the leaflets.
—-
This from Meredith Aby & the Minneapolis Anti-War Committee, regarding a forum taking place right now, tonight in Minneapolis.
Forum on Dissent and Repression in the US and India: Free Dr. Binayak Sen! Stop Harassing Peace activists in the US!!
Thursday, February 10th from 7:00 – 8:30 PM, 445 Blegen Hall, U of M West Bank, 269 19th Avenue S, Minneapolis, MN 55455
Panelists:
Jess Sundin, Anti-War Committee
Michelle Gross, Communities United Against Police Brutality
Lalit Batra, International Campaign to Free Binayak Sen
Moderator: Prof. Vinay Gidwani, Dept of Geography, UofMinn.
(Snacks and drinks will be served after the discussion)
On September 24, 2010, FBI raided the homes of peace activists in Minneapolis and Chicago, seizing computers, phones and large amount of documents and personal items. Since then, 23 activists in both these cities have been subpoenaed to appear before a grand jury. No one has been charged and lacking any material evidence, the United States government is clearly carrying out a campaign of intimidating people, who did little more than speak out for peace and justice.
On December 24, 2010, Dr. Binayak Sen, a renowned physician, public health and human rights activist, was sentenced to life in prison by a sessions court in the Indian state of Chhattisgarh on baseless charges of 'sedition' and 'conspiracy against the state'. This extreme action comes on top of the arrest and conviction of several political and human rights activists in different parts of India in the last few years.
Come find out more about these cases and the context in which these acts of repression and silencing of dissent are occurring in the US and in India!
—-
and finally, this comes to us from Patrick Schmitt of Change.org
Dear Mike,
Valentine's Day, which accounts for 40% of fresh flower sales annually, is fast approaching.
If you're planning to order a bouquet from 1-800-Flowers — the world's largest florist — you should know where most of those flowers really come from.
At flower farms in Ecuador and Colombia — the countries that export the most to the U.S. — two-thirds of the workers are women. These women are routinely subjected to harassment and even rape from their male supervisors. They suffer eye infections and miscarriages from consistent contact with dangerous pesticides.
In the weeks leading up to Valentine's Day and Mother's Day, they're routinely forced to work 80-hour weeks with no overtime pay. Attempts to form a union are met with opposition by police and armed forces.
Many retailers — such as Whole Foods and Stop & Shop — have taken the important first step of offering Fair Trade flowers to consumers who want no part of these abuses. Fair Trade certified farms must adhere to strict standards for workers' rights, which prevents the abuses described above.
1-800-Flowers is the largest florist in the world. Yet they offer no Fair Trade flowers at all.
Tell 1-800-Flowers to join other major retailers in offering Fair Trade flowers.
Go to the Change.org website to find out how to take action.
==================
Submit your news events to radio@newamericandream.info
==================
Iowa Ministry of Fear
Chuck:
"… This program is being brought to you, in-part, by the Iowa Ministry of Fear.
If you're not afraid, you're not trying.
Look.
Out your window.
We said … look out your damn window.
What you see is … communists, terrorists, criminals, Mexicans … and Big Bees.
What you see … LOOK! … NOW!
What you see … are underwear bombers, crotch bombers, conspiracy theorists, burning back-packs, witches … and BIG BEEs.
What … you … might … also see …
Are …
Gold-finches.
Very commonly used by terrorists. Bird feeders are likely drop-off areas.
… For terrorist stuff.
Have you also seen slow drivers in your neighborhood, disguised as old ladies in white, blue or grey hair … slouched down so low it looks like nobody is driving?
Terrorists.
Call Wal-Mart. … Before it's too late.
… Be Afraid. Be Very Afraid.
Because … we're your Iowa Ministry of Fear. …
==================
Poet of the Week - Doug Draime
MIKE:
Doug Draime emerged as a presence in the 'underground' literary movement in Los Angeles in the late 1960's.
Most recent books in print include:
* "Rock 'n Roll Jizz" (Propaganda Press)
* "For A Dream Ended" (Kendra Steiner Editions)
* "Los Angeles Terminal: Poems 1971-1980" (Covert Press)
Doug was awarded PEN grants in 1987 and 1991, and nominated for five Pushcart Prizes in the last three years. He lives in the southern foothills of Oregon with his wife and family.
His new chapbook, Rock 'n Roll Jizz has just been released from Propaganda Press.
For only $6 you will never look at rock 'n roll the same again. Be the first rocker on your block to own one.
"Help spread the word , Elvis and I are counting on you, And we thank ya' very much for your time."
[We hope to include full text of the poems Doug read for us.]
==================
TRIVIAL AMERICA, the contest
Opening scene of The Big Lebowski in Ralph's grocery, The Dude is writing a check for 69 cents. What is the date on that check?
Be first person to email the correct date to the show and receive a free signed copy of "Camp America."
mpalecek@rconnect.com
==================
Special Guest of the Week - Debra Sweet
Chuck:
Debra Sweet is the Director of World Can't Wait, initiated in 2005 to "drive out the Bush regime" by repudiating its program, forcing it from office through a mass, independent movement and reversing the direction it had launched.
Based in New York City, she leads World Can't Wait in its continuing efforts to stop the crimes of our government, including the unjust occupations of Iraq and Afghanistan and the torture and detention codes, as well as reversing the fascist direction of U.S. society, from the surveillance state to the criminalization of abortion and immigrants.
She has worked with abortion providers for twenty-five years, organizing community support and helping them withstand anti-abortion violence.
Since the age of 19, when she confronted Richard Nixon during a face-to-face meeting and told him to stop the war in Vietnam, she has been a leader in the opposition to U.S. wars and invasions.
Debra says, "Stop thinking like an American, and start thinking about humanity!"
You can read her writings at debra.worldcantwait.net.
==================
Thanks again to our sponsors, Rock Creek Free Press and Peter B Collins.
Please visit our websites, newamericandream.info and newamericandream.net. And don't forget to join us again next week–same time, same place. Thanks for listening.
==================
Chuck: Thanks, Mike, and Good Night.
Mike: Good night, Chuck.
Debra Sweet is the Director of World Can't Wait, initiated in 2005 to "drive out the Bush regime" by repudiating its program, forcing it from office through a mass, independent movement and reversing the direction it had launched.  Based in New York City, she leads World Can't Wait in its continuing efforts to stop the […]
Poet, California Doug Draime has been a presence in the 'underground' and independent press since 1968. He was awarded small PEN grants in 1987 and 1991 and has been nominated for several Pushcart Prizes in the last few years. He lives in the southern Oregon foothills with his wife and family. Though most of his […]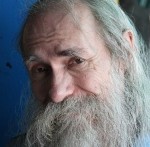 Co-founder and co-host of the show, Chuck lives in Fort Lauderdale, Florida with his wife Lorraine and assorted exotic pets. He was fortunate to attend Friends Central School in the late '60s to hone the already strong core beliefs instilled in him by his parents Wayne Lawrence and Marjorie Mock Gregory. His education continued at […]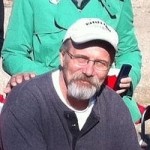 Co-founder and co-host of the show, Mike Palecek is a writer who lives in Saginaw, Minnesota, west of Duluth. He is a former federal prisoner for peace; was the Iowa Democratic Party candidate for the U.S. House of Representatives, 5th District in the 2000 election, gaining 65,000 votes on an anti-war platform in a conservative […]