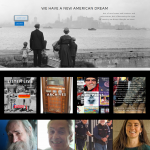 I opened with Midnight Special, then introduced "ghetto-born anarchist" Lemar Hybachi, filling in for Anthony Rayson. Lemar was in a halfway house, and had quite a lot to say about restructuring society and overthrowing government. It was quite a conversation.
The second segment as usual had Philip Farruggio with his latest column from It's the Empire Stupid: Junior High School Amerika. He compared politics in the modern USA with the Junior High Student Council race from his childhood (when Chuck Schumer ran!).
The third segment featured original Black Panther Larry Pinkney who emphasized the importance of critical thinking and civility in political discourse, followed by Frank Cordaro with info about the ways and means of the Catholic Worker Movement. I closed the segment discussing Nonviolent Revolution, in contrast to Lemar's earlier presentation.
The final guest of the evening was M.K. Davis, who had some very interesting things to say about how animals (and perhaps Bigfoot/Sasquatch?) adapt to circumstances. We had a great conversation to close the show.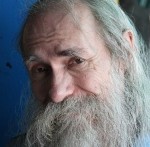 Co-founder and co-host of the show, Chuck lives in Fort Lauderdale, Florida with his wife Lorraine and assorted exotic pets. He was fortunate to attend Friends Central School in the late '60s to hone the already strong core beliefs instilled in him by his parents Wayne Lawrence and Marjorie Mock Gregory. His education continued at […]