December 6, 2012 A Double Dose of Sherwood Ross
Chuck and Mike welcomed our monthly columnist Sherwood Ross as our guest poet as well as in his usual spot.

[audio:http://newdream.us/wp-content/uploads/2015/08/show_3987895.mp3|titles=show_3987895]

right click to download show_3987895

Sherwood has graciously agreed that we may publish the text of the poems he read (see below). For "50 Poems by Sherwood Ross" write to sherwoodross10@gmail.com.

his book of Here they are:
The Sun King
© 2012 by Sherwood Ross
The Sun King rose and began his day
Slaying his enemies an ocean away.
Technical marvels had he perfected
To kill heretics when detected.
Ignoring the hunger of the starveling world
In war upon war his flag he unfurled.
The Sun King killed without mercy or pity
Able to wipe out nation or city.
Why the man was mightier than Genghis Khan
And a salesman better than the Fuller Brush Man.
His priests approached him every morn
Made mumbo jumbo and blew their horn
And handed him a list of those to die
By the killer birds he launched in the sky.
Priests and king nights danced 'round the fire
Their blood-red faces to fear and admire
Yea, humanity held its collective breath
For the Sun King's face was the face of Death
The devil's wrath Americans bring
when They elect a president
And let him rule like a king.
Confessions of an Old Fart
© 2012 by Sherwood Ross
I am an old fart
Used to overseeing
The slow deterioration
Of my corporeal being.
Time has wrinkled my face and coarsened my hands
And bronzed them like wind-rippled sands
Blowing off the Arizona desert.
Blue veins enlarged themselves
Without my consultation or consent
Coursing down my wrists they seep
Like sluggish rivers in the arroyos
Of the dry kingdom of the cactus
Where the Diamondback and the Iguana creep.
Where the lonely Navajo cowboy
Rides all the starry night around his sheep.
Time, my undefeated rival
Champion of the world!
Bantamweights, lightweights, middleweights, heavyweights
Time defeats them all, they're cursed
Like heavyweight Tony Galento, whose motto
He told me was "Trow first!"
Like Sugar Ray Robinson
The Gentleman Champ
Who told me in his training camp
That he whispered to opponents in the ring
"Lie down! Lie down!
How much can you take?
Nobody will know the knock out's a fake."
Time defeats the toughest of them all
I hear Time snickering down the hall
Where the Preservation Jazz Band
Plays the March of Saul.
For fifty years I pulled the yoke
And now, sweet christ, I'm old and broke
They call me gramps
Beer gives me cramps
I eat food stamps
I'm just one jump ahead of tramps.
Bless me, father, bless my soul
This goddamned life's beyond my control.
I am an old fart, tears course down my cheeks
I cannot begin to plug the leaks
Or stop the saliva that drips as drool
Strangers ask, "Who the hell is that old fool?"
My wife was an apple
Now she's a pear
Once she loved triangles
Now she's a square
My speech is slurred.
No matter how clearly I try to talk.
And even with my cane
It's hard for me to walk.
So I tap my cane to the fiddler's beat
And watch the dancers and drink Scotch neat.
Blue fiddle! Blue faddle!
How I do prattle, fiddle faddle.
Fiddle faddle! Fiddle faddle! Fiddle prattle!
As for love, romance, and the fairer sex
It's been years since that charity visit from my ex.
Peter! Peter! Pumpkin hauler!
Had a wife and couldn't ball her!
He put her in a pumpkin shell…
But after a month she began to smell.
Ha! Ha! That's a joke, son!
S-a-y, where did that rapid heart beat come from?
Did Time just snicker at my goddamned ticker?
Why oh why did god give me two eyes and two ears
But only one heart? I fly through life
Like a single-engine Cessna
Buffeted by headwinds, rejected by MENSA
Help me, doc, I'm running low on gas
Except for the farts shot out of my ass
With only one muttering, puttering, sputtering
Old heart. That's all you get, you damned old fart!
What do I lack? What do I lack?
I need King Kong to cover my back.
Everybody, all together:
What do I lack? What do I lack?
I need King Kong to cover my back.
Now even my shrink says that I'm goin' nuts
'Cause I blew my dough on loose slots and sluts
Says he's sick of hearing me whine and cry
Says, Just be sure you pay your bill before you die
Or Sigmund Freud won't shrink you up in the sky.
Now I've run out of money and
I've run out of luck
And my advice about life is:
What the fuck! What the fuck!
What the fuckin' fuck!
THE PAINTING OF THE LADY IN RED AND THE SAILOR
© 2012 by Sherwood Ross
In the painting of The Lady in Red and the Sailor
The couple are seated at an outdoor cafe.
The woman is much older, practiced, and knows what to say.
Much of her ability to please is knowing
How to put young sailors at their ease
In the room she rents in the cheap hotel
With her doll collection, and a medicinal smell.
A waiter in a white jacket with a black bow-tie
Pours the lady a glass of Sauterne white and dry
From a twisted hand that seems oddly bent
As if that is not at all what the artist meant.
No, that is not what the artist meant at all.
The flaws on the canvas, though, are small
And do not tarnish its essential charm
Nor mar the ivory elegance of the lady's arm.
For years this engrossing three foot by four foot canvas
Hung on the office wall of my accountant
And I never failed to admire it when I visited.
"You like it so much" he said to me one day
At the end of our business session,
"Take it off my hands, I'm tired of looking at it"
Which is how the gift of a lifetime fell into my possession.
In the years since then, the painting
Has hung over my writing desk to enthrall
Reminding me of a lady I once met in my youth
On a weekend pass at a French port-of-call.
Recently, I discovered I could enter and leave
The world of the painting, whenever I please
That I could converse with the couple
At the table where they sit pressing knees,
And when I pass through the painting's door
I hear old love songs on an accordion
Remembered faintly from long years before
Played by a gypsy dancing on the sawdust floor.
Beckoning me to step into his waterfront cafe
With the young sailors on leave in Marseilles
So that I, now dressed in my civilian clothes,
Can dance with the lady close and slow
To Edith Piaf's "La Vie en Rose."
And I am become twenty-two again
And I can taste the tobacco taste on my Red Lady's lips
And see the harbor from her room
Spread out below, aglow with the lights of its hundred ships
Glimmering like stars upon a watery sky
Leaking through the evening's gloom
All seen opaquely through a window smirched with grime
Alongside the flickering red neon "Hotel" sign
As I press against my lady's pillowy softness.
And my life takes on a new, fresh start.
For its several flaws, no painting by Picasso
Ever spoke more directly to my heart.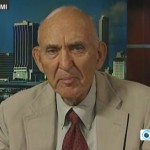 Sherwood Ross was one of our first guests, and he was a monthly columnist from 2011 to 2016. Sherwood has retired from public view, and we miss him very much. His slot was taken over by another of our earliest guests, Ava Bird. Sherwood Ross has worked for the Chicago News Service, also as a […]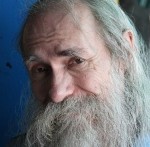 Co-founder and co-host of the show, Chuck lives in Fort Lauderdale, Florida with his wife Lorraine and assorted exotic pets. He was fortunate to attend Friends Central School in the late '60s to hone the already strong core beliefs instilled in him by his parents Wayne Lawrence and Marjorie Mock Gregory. His education continued at […]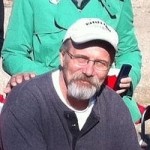 Co-founder and co-host of the show, Mike Palecek is a writer who lives in Saginaw, Minnesota, west of Duluth. He is a former federal prisoner for peace; was the Iowa Democratic Party candidate for the U.S. House of Representatives, 5th District in the 2000 election, gaining 65,000 votes on an anti-war platform in a conservative […]