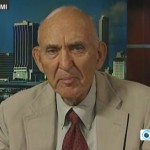 Sherwood Ross was one of our first guests, and he was a monthly columnist from 2011 to 2016. Sherwood has retired from public view, and we miss him very much. His slot was taken over by another of our earliest guests, Ava Bird.
Sherwood Ross has worked for the Chicago News Service, also as a columnist for Reuters. He has also been a media consultant to colleges, law schools, labor unions, and to the editors of more than 100 national magazines.
A civil rights activist, he was News Director for the National Urban League, a talk show host at WOL Radio, Washington, D.C., and holds an award for "best spot news coverage" for Chicago radio stations for civil rights reporting.
He is the author of "Gruening of Alaska,"(Best Books) and several plays about Japan during World War II, including "Baron Jiro," and "Yamamoto's Decision," read at the National Press Club, where he is a member. His favorite quotations are from the Sermon on The Mount.
Sherwood was on our first show on February 3, 2011, and is a monthly columnist for the first week of each month.
See Sherwood's columns at Veteran's Today: http://www.veteranstoday.com/author/sherwood/"