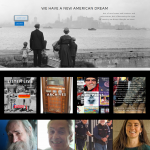 I opened by dedicating this show to Rob Smith in honor of his birthday. I sang "You've Got to be Taught" since it was part of "South Pacific" which opened in Rob's birthday year, and also because its ironic look at the origins of racism are just as relevant today as in 1949. I introduced a new guest, poet Lin Mouton, who shared two wonderful poems with us: "White Privilege" and "While Black". These are modern artistic expressions demonstrating just how much social injustice is still happening in 2020. Following Lin I introduced my earlier recorded interview with regular monthly guest Mike Bond. Mike and I ended up talking more about music than social issues, although he did stress the importance of living our lives in the best way possible – helping others whenever possible, being present with family and loved ones, and spreading love in the world. Only the first part of the interview with Mike Bond made it out during the live show, but I have patched it into this recording.
The second part as usual featured Philip Farruggio, who read his column D & D Amerika. We had an interesting conversation afterward, with quite a few jokes since humor seems to be the only way to deal with what's happening in 2020.
For the third segment I introduced Michael Annis, who started by sharing his outrage over Kenosha, culminating in a quote from Cost of Freedom: "After all, it is the leaders of the country who determine the policy…". He proceeded to read the first part of his poem, "Weapons of Mass Distraction," which he will continue over his next two appearances on the 4th Thursday of September and August.
The final segment had my earlier interview with Frank Cordaro of the Des Moines Catholic Worker and the recorded column from Julius Awafong, our columnist from Yaounde, Cameroon. I closed the show as I used to by singing "Universal Soldier".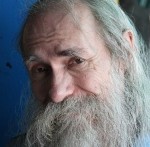 Co-founder and co-host of the show, Chuck lives in Fort Lauderdale, Florida with his wife Lorraine and assorted exotic pets. He was fortunate to attend Friends Central School in the late '60s to hone the already strong core beliefs instilled in him by his parents Wayne Lawrence and Marjorie Mock Gregory. His education continued at […]