March 27, 2014, guests Alan Maki and Michael Annis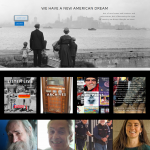 ALAN MAKI

Alan did a great column on the Ukraine situation.

MICHAEL ANNIS

Michael did the first of two parts of his poem "through the slits of Orlando's eyelids" which is being presented on radio for the first time We are honored and impressed. See the text here.
Karen Kwiatkowski was not able to join us but will be back next month.
Chuck kicked things off with a rendition of Leonard Cohen's "Everybody Knows" and was privileged to read a Jimmy Breslin column and some bits from Bill Hicks in addition to this week's chapter from The American Dream by co-host Mike Palecek.
Mike read a fascinating article about Social Media in Strategic Communication, revealing the use of information technology in support of America's war efforts, a wonderful Amelia Earhart bit, , and a summary of real news from places such as Information Clearing House.