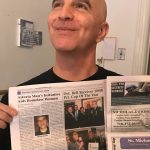 Mickey Z is a monthly columnist, appearing the first week of each month.
Born and raised in Astoria, Queens, Mickey Zessima has been a vegan since 1995 and is probably the only person on the planet to have appeared in both a political book with Noam Chomsky and a karate flick with Billy Blanks.
Armed only with a high school diploma, Mickey is the author of 12 books and has spoken and lectured in venues ranging from MIT to ABC No Rio, from Yale University to Occupy Free University.
Howard Zinn called him "provocative and bold," New York Newsday says he is a "professional iconoclast," and publisher Sander Hicks asked: "How can someone be so sweet and yet so fierce?"
Novelist Ned Vizzini wrote: "It's easy to talk about punk rock writing, but Mickey Z. really does write as if he doesn't give a fuck but knows what must be said."
And journalist Rosemarie Jackowski sums up: "Mickey's gentle concern for his fellow earthlings and his behind-the-scenes acts of kindness are surpassed only by the cuteness of his dimples."
View Mickey's blog: https://mickeyzsays.wordpress.com/
See his latest initiative, the Homeless Women's Project NYC