DOUG DRAIME
from Ashland, Oregon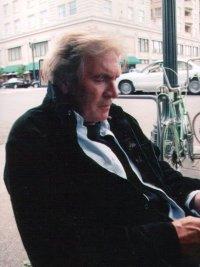 Doug Draime emerged as a presence in the 'underground' literary movement in Los Angeles in the late 1960's.
Most recent books in print include:
"Rock 'n Roll Jizz" (Propaganda Press)
"For A Dream Ended" (Kendra Steiner Editions)
"Los Angeles Terminal: Poems 1971-1980" (Covert Press).
Awarded PEN grants in 1987 and 1991.
Nominated for five Pushcart Prizes in the last three years. He lives in the southern foothills of Oregon with his wife and family.
A new chapbook of mine, Rock 'n Roll Jizz has just been released from Propaganda Press.

For only $6 you will never look at rock 'n roll the same again. Be the first rocker on your block to own one.

Help spread the word , Elvis and I are counting on you, And we thank ya' very much for your time.

— Doug Draime
" Draime never ceases to amaze. Rock 'n Roll Jizz is raunchy, profane, and revolutionary"

– Jake Wilde, Box Top Five
order from:
Alternating Current/Propaganda Press
PO Box 183
Palo Alto, Ca 94302