August 7, 2014, guests Ole Dammegard, Sherwood Ross, and Mickey Z

Right Click to Download
---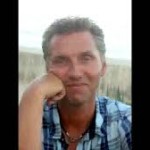 Ole Dammegard
Ole was reporting during a trip to Sweden. He was amazed to notice the way that almost all financial transactions were electronic, for example he could not pay with cash in a coffee shop unless he had exact change. He worries that this means we are all surrendering control of our money, paving the way to a totalitarian new world order.
---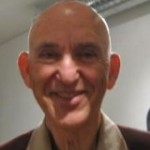 Sherwood Ross
Sherwood was just magnificent on this show. Starting with his tremendously moving poem about Hiroshima, he later described in detail the "March Against Fear" in which he was the press relations man walking with James Meredith, the first black student admitted to the University of Mississippi. Sherwood was right there when Meredith was shot, and his eyewitness account was picked up by newspapers across the nation and in no small way triggered the continuation of the March on Meredith's behalf by Martin Luther King.
---

Mickey Z
Mickey and I talked about the Great Climate March, and activism, and how people interacting in person can make a difference
---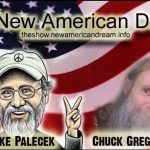 Chuck Gregory and Mike Palecek
I opened with "One Tin Soldier" which has a great message, just as important now as when it was written. Mike and I did the usual great bits, including:
The United States Hall Of Shame And Air Show
Seals, Rangers, Green Berets … The best this country has to offer
The American Camo Culture, brought to you by Men's Warehouse. You'd look better wearing nothing at all. I guarantee it.
Waterboarding HENRY KISSINGER
The Dollie 'Bama – Nobel Peace Prize Winner
Iowa Ministry of Fear
Warm&Fuzzy Small-Pox Blankets of Muncie, Indiana
The House Un-American Activities Committee
The Minutemen. Guarding American's borders from poor people.
You Might Be a Terrorist
Edward Snowden and Julian Assange: Who Are You Guys, Really?
As The Axis Of Evil Spins
"Just Livin' The Dream," the American Country Music Awards Show
Some notes we have been receiving from listeners … by email, chat room, cellphone, telepathy and telegraph
The News from Mount Liberty, continuing the story of Charlie Johnson and his "tests" at the local mental institution.
Mickey Z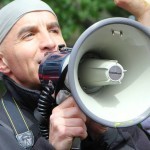 Born and raised in Astoria, Queens, Mickey Z. has been a vegan since 1995 and is probably the only person on the planet to have appeared in both a political book with Noam Chomsky and a karate flick with Billy Blanks.
Armed only with a high school diploma, Mickey is the author of 12 books and has spoken and lectured in venues ranging from MIT to ABC No Rio, from Yale University to Occupy Free University.
See full biohttp://newdream.us/person/mickey-z/
Sherwood Ross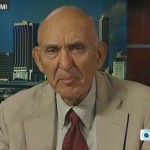 Sherwood Ross has worked for the Chicago News Service, also as a columnist for Reuters. He has also been a media consultant to colleges, law schools, labor unions, and to the editors of more than 100 national magazines.
Sherwood was on our first show on February 3, 2011, and is a monthly columnist for the first week of each month.
See Full Bio: http://newdream.us/person/sherwood-ross/
Chuck Gregory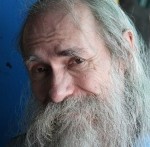 Co-founder and co-host of the show, Chuck lives in Fort Lauderdale, Florida with his wife Lorraine and their pet rat Lucy.
Chuck has done the engineering for the show since June 2012 when we moved to Blog Talk Radio from our first host, Black Op Radio. His first activism was in the late '60s when groups from Friends Central School went to Washington for several Marches, both for Civil Rights and against the Vietnam War.
See full bio: http://newdream.us/person/chuck-gregory/
Mike Palecek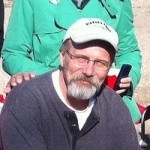 Co-founder and co-host of the show, Mike Palecek is a writer who lives in Saginaw, Minnesota, west of Duluth.
He is a former federal prisoner for peace; was the Iowa Democratic Party candidate for the U.S. House of Representatives, 5th District in the 2000 election, gaining 65,000 votes on an anti-war platform in a conservative district; is a former award winning reporter, editor, publisher in Nebraska, Iowa, Minnesota.
See full bio: http://newdream.us/person/mike-palecek/