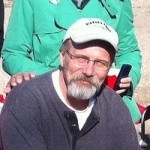 Co-founder and co-host of the show, Mike Palecek is a writer who lives in Saginaw, Minnesota, west of Duluth.
He is a former federal prisoner for peace; was the Iowa Democratic Party candidate for the U.S. House of Representatives, 5th District in the 2000 election, gaining 65,000 votes on an anti-war platform in a conservative district; is a former award winning reporter, editor, publisher in Nebraska, Iowa, Minnesota.
The small newspaper Mike & Ruth Palecek owned and operated in Byron, Minnesota won the MNA Newspaper of the Year Award in 1993. Mike and Ruth have two children and recently moved from Iowa to Minnesota. The Paleceks both work for group homes in the Cloquet area.